Mason Auto and Workplace Accidents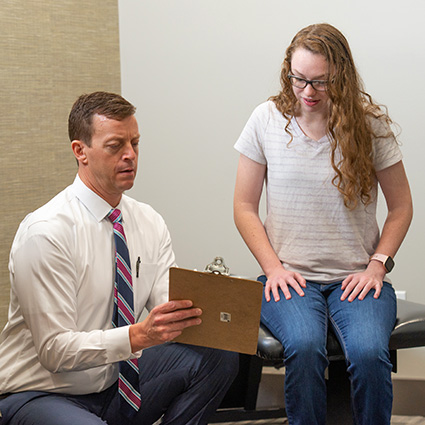 For over 20 years, Dr. Reid has studied disc problems, whiplash, compressed nerves, concussions and other forms of damage resulting from auto accidents or workplace accidents. With conservative chiropractic care, you may find the solution you need. Dr. Reid has the skills and expertise to help you. If your case isn't a chiropractic one, he works with a range of area specialists he can refer you to.
A Different Approach to Auto Accident Injury
When you seek help at the ER after having been in an auto accident, they're looking for breaks, fractures or any life-threatening problems. They do not identify injuries in the soft tissues, muscles, ligaments, tendons, nerves or discs. Chiropractors are trained in addressing all of these aspects.
If you don't get the right treatment for your injury, your body will create scar tissue to replace injured tissues. If the injured area is out of position, however, it won't go back on its own. Meanwhile, it will wear out the cartilage and disc space, resulting in arthritis. With chiropractic, you can heal correctly and prevent any problems from occurring in the future.
The Expertise You Need
Even with low-speed collisions, you'll notice something doesn't feel right in the days or weeks afterward. No matter what type of accident you were in, we can evaluate you and decide if you require chiropractic to get better. Dr. Reid is a certified automobile accident reconstructionist and a specialist in brain injuries and concussion.
Dr. Reid provides you thorough care and will give detailed notes to the insurance company or attorney. In doing so, we can be sure that you get the fair settlement you deserve.
Auto Injuries
Often times, it's difficult to know if we need help after having had a fender bender. Stiffness and soreness and especially pain when moving an area are all signs of some kind of injury after an incident and should be checked. Dr. Reid is happy to check you or your loved one for free with the free consultation. There is no obligation for care or treatment and you will get the opportunity to meet with him and talk about what has happened to see if anything can be done to help you. If he can help, he will. If he can't, he will find someone who can if that is your preference.
If you or someone you know has been in an auto accident, contact us today to schedule a consultation.

Auto Accidents Mason OH | Mason Spine & Injury Center | (513) 229-0024