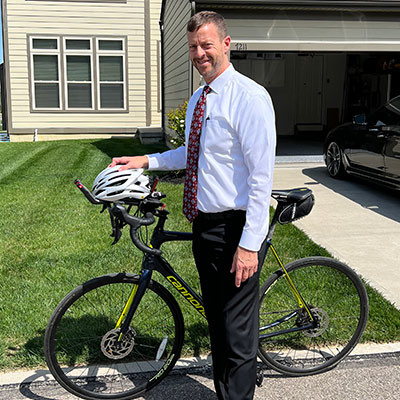 Maybe you've been trying to pare those extra pesky pounds or get fit, but you haven't found what you love.
Dr. Reid
gets it and wants patients to know that achieving their weight loss or fitness goals is possible.
"The older we get, the harder it is to stay in shape and lose weight. I didn't want to blow out my knees from running, so I took up cycling," said Dr. Reid. Not only did he want to lose weight and get in great shape (which he did!) but he also wanted other people to know that if they work hard enough at it and are consistent with it, they can get into great shape too.
From Occasional Cycler to Regular Rider
Dr. Reid first got into riding about five years ago. He rode 15-20 minutes 2-3 times a week. "I just rode when I wanted to and when the weather was nice. Once I understood how cleansing cycling was for my mind, I thought I needed to do this more often," he said.
After a year or so of riding every now and then, Dr. Reid liked to ride 4-5 days a week. At the time, he probably rode 5-8 miles a day, so it would take him about 40 minutes. That turned into him thinking, "Let's see if I can ride 20 miles in a day." After Dr. Reid reached that goal, he'd regularly ride 20 miles 2-3 times a week. His next thought was, "If I can do 20, can I do 40?"
Dr. Reid finds that after he reaches a goal, it is always fun to see if you can get to the next one. So he thought if he could do 40, then why not 100?! It took a year or so of riding to reach 100 miles. The next year, Dr. Reid decided to ride like the pros, and cycle 100 miles three days in a row. That took another year of training, and he achieved 300 miles in three days last summer.
Staying Tuned up
To keep his spine well aligned while he was training, Dr. Reid got chiropractic care from two excellent chiropractors who worked in the same office. They helped him many times when he needed some tune-ups on his body.
In addition to getting adjusted, Dr. Reid spends about 40 minutes a day stretching to ensure his hamstrings are as loose as possible and that his back and shoulders stay loose. "I'm convinced if you want to do something and take care of your body, you need to do it right," he said. Dr. Reid also mixes in some massage therapy, chiropractic care and acupuncture-based therapy, along with self therapy at home.
Reaping the Health Dividends of Riding
Dr. Reid isn't sure yet what his next goal is, but he loves riding, as it makes him feel fantastic. "It cleans out the cobwebs and I can focus for a longer period. My metabolism is good, and I can sleep much better than I used to. Everything works better and everything's better when I ride," he said.
'You Can Do It Too'
When patients who haven't been in the office in a few years come in, they're amazed to see how fit Dr. Reid is. He often gets compliments on how great he looks after the weight loss. "I'm thinking to myself, 'You can do it too. You just have to work out every day, whether you feel like it or not or want to do it.'"
Dr. Reid believes that if you stick with whatever type of exercise you enjoy, whether cycling or something else, you can achieve their goals. "Once you get in the groove, it feels great," he said.