Frequently Asked Questions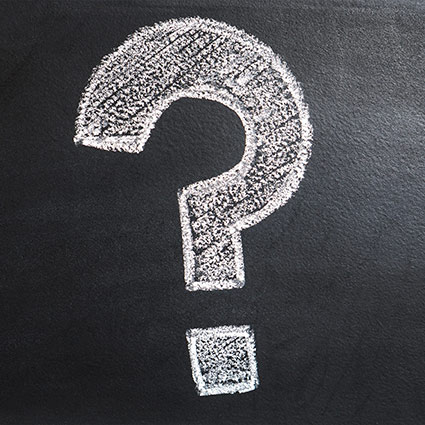 Every day we get questions about our services here at
Mason Spine & Injury Center
. Below are answers to our patients' most frequently asked questions.
If you have any other questions that aren't listed here, please contact our practice today!
CONTACT US »

Do I have to go to the chiropractor forever?
No, of course not. Our job is to improve your body movement and stress level to a reasonable level, and give you the home-based stretches or exercises that you can use to continue the improvement.
Typically, we work with people for a relatively short period initially to get them feeling better and resolve the cause of their pains/stiffness, soreness, and restricted movements. Many people find that once their body is working normally, it is helped with a tune-up, which helps keep them functioning well.
Sometimes an adjustment can be uncomfortable. When there is a joint compressed and it hurts because it's been compressed, there can be some discomfort with the adjustment. The adjustments help alleviate the compression, though, and reduce the pain caused by the compression. Typically, it takes a series of adjustments to have a positive effect on the involved area.
Can chiropractic cure everything?
It would be grand if it did cure everything, but it doesn't cure anything. However,
chiropractic care
can help people improve their level of physical stress, and that leads to other improvements. These include
Having an easier time sleeping
Getting better quality sleep/rest
Exercising because the back, knees or other areas are no longer in pain
Allowing us to sit, stand and walk longer, etc.
Chiropractic doesn't fix anything; it simply allows our bodies to work better and more efficiently.
We use various types of treatments, including many old school chiropractic adjusting methods and new ones. Physical therapy ideas and techniques for treatment protocols are also used, as these help widen the effectiveness of receiving treatment in this kind of office. We also recommend massage therapy, stretching therapy, or acupuncture if they are likely to be helpful.
Why would my newborn or child be treated?
Stress. Kids have it too. When we (big kids or little kids) have stress, whether physical or mental, the tension typically can be found in the muscles of the upper back, neck and low back, especially after a "tough day." This office finds those areas and relieves the tension with simple, gentle adjustments for little kids and big.
How does chiropractic help with earaches in kids and colic?
These are the two most common reasons parents bring their kids in for
chiropractic care
. Earaches are almost always caused by the Eustachian tube, which connects the inside of the ear to the throat, being clogged. In a very high percentage of cases, we have successful treatment of these cases with chiropractic care, so tube surgery can be avoided.
With colic, there are valves in the bellies of little people (and us big kids) which often get stuck in the closed position. When they are found, some pressure with a fingertip is used to unlock it, and the belly pain is improved and almost always resolved completely.
Does insurance cover chiropractic care?
Typically, there are insurance benefits. We recommend that new people to our office schedule a free consultation where you review your health issues directly with Dr. Reid, and if he believes he can help you, he'll let you know. If he thinks you would be better off going to another provider's office, he'll let you know that too free of charge.
It varies with every case. We provide care based on what is needed, and every case is different, and insurance coverage is different. If there is no insurance coverage, that's okay, as we have discounted plans available.
No. We work closely with most local MDs and have been in this area since 2008. We know all the other doctors and enjoy working with them, but there is no need for a referral.
Do you work with medical doctors?
We prefer to contact your other providers. If you prefer, we can send our testing results to your family care doctor's office, so they know what we have found and what our plan is to help you, and so they know also.
Will I be treated on my first visit?
It depends on the case. If we can gather enough information to allow
Dr. Reid
to have enough clinical understanding of your case on the first day, he may adjust you. Typically, though, it takes a day to gather and review the needed information to understand what is happening with new cases. Dr. Reid will only treat after having a detailed understanding of your case, so he can provide the best care possible.
We will make appropriate suggestions and recommendations for patients to help themselves at home. There are many suggestions, including ice, stretching, performing simple exercises to strengthen areas, standing at work, using a standing desk, taking time off of work, avoiding certain activities or tasks which make the condition worse, and others.
Typically, if there is an area of the body which needs chiropractic treatment, it can be helped with some stretches at home.
Can someone who has had back surgery see a chiropractor?
Yes. We gather relevant information regarding the surgery/surgeries and ensure that the appropriate, safest, and most gentle treatment is given, which is specific and different for each case. If there is a fusion in the spine, we can treat areas other than the fused areas.
Why should I come to your practice over another?
First, we like what we do! We understand that there are people out there who are in pain and scared to go to a doctor's office and do the paperwork, meet people in a strange environment and see a new doctor. We get it. That's why we make every effort to make it as easy as possible, and ensure that people receive the best care and treatment we can possibly deliver. We base 25 years of experience in helping people reach their goals.
We also do very specific work in this office. We never guess what needs to be adjusted, and use the most advanced methods to gather the necessary information and obtain the best clinical information. With that information, we know what the best course of action is for patients, and which types of chiropractic treatments will be most advantageous for each case.

Chiropractic Care Mason OH | Mason Spine & Injury Center | (513) 229-0024