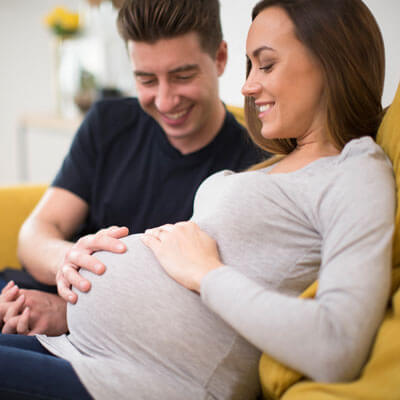 Mason Pregnancy Chiropractic
Chiropractic offers no side effects, unlike medications that you have to avoid while you're pregnant. During this precious time of your life, you might feel uncomfortable, get aches and pains in your back and pelvis and feel unable to do your normal activities. With the help of chiropractic care, you'll be set up to better enjoy your pregnancy experience.
Changes in Your Low Back
When you're expecting, the curve in your low back shifts. It's intended to be a forward curve, but when you are pregnant, the natural curve reduces. As your baby grows, this reduction does, too. That means your low back is in a position that will increase the pressure put on the joints of the low back. That's why so many moms report low back pain during pregnancy. It can be easily and effectively addressed through chiropractic care.
We never take X-rays on our pregnant patients. After a thorough examination, Dr. Reid will tell you the problems he's identified and how we can help you. When it's time for your adjustment, we'll take a careful, slow and gentle approach. We'll loosen up any tightness in your low back. When our expecting patients leave, they are glowing. They can sleep again, aren't in pain and are thrilled with their results.
When there is interference with your nervous system, your ability to function is reduced. We restore your nervous system to 100%, which can result in benefits such as

Reduced pain
Diminished stress
Greater strength
Improved comfort
Increased ability to sit or stand for longer periods
Furthermore, you may find problems related to your hormones. The hormone relaxin is secreted throughout your pregnancy, relaxing the ligaments so that your body is ready for birth. It can mean more pressure on your spine and joints. We remove this pressure so that the benefits of the hormone remain, but the pain it causes does not.
Reduce Your Stress Levels With Chiropractic
You don't need to wait until a specific point in your pregnancy journey to begin chiropractic. In fact, we have a board in the office covered with photos of babies that were conceived after their parents started chiropractic care. They may have been trying for years and were unsure if a baby was in their future.
At any point during your pregnancy, chiropractic can reduce your stress levels. You may see us more often toward the end of your pregnancy because your adjustments help you get better rest and sleep.
Contact our team now to discuss the benefits of chiropractic for Mason pregnancy! We're pleased to offer free consultations.
CONTACT US »

Pregnancy Chiropractor Mason OH | Mason Spine & Injury Center | (513) 229-0024